WordPress has an awesome time-saving feature called Press This. It's a browser Bookmarklet which can be dragged and dropped into a browser's bookmark bar allowing users to quickly post a link and their commentary about the page they are visiting.
Press This makes content curation quick and easy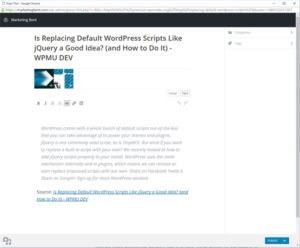 All you have to do is click on the Bookmarklet to open a window that allows you to make a few comments, synopsis the information you are viewing, provides the option of categories and tags then posts directly to your WordPress website/blog.
Unfortunately, due to the way some hosting services handle security, Press This may not work for everyone. For example, on Hostgator shared hosting accounts (possibly on their VPS and dedicated services as well), Mod_security will deny access to the bookmarklet resulting in a 403 error. 
Fortunately, with Hostgator, there is an easy solution. Open a support ticket or support chat and they can quickly whitelist your domain so that mod_security will Allow Pres This to work.  When you submit your request be certain to reference any domains associated with/nested within your account (AKA – Addon Domains) running WordPress that you want to be able to use Press This with. 
If you are not using Hostgator, simply contact your provider and ask them what you can do to fix the issue. Most companies will work with you, but if for some reason yours doesn't you might want to consider migrating to a service 
That's all she wrote, happy curating!